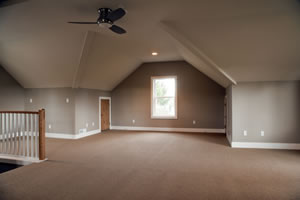 Create extra space in your home
Could you do with extra room in your home? Maybe you have a growing family and need an extra bedroom or playroom, maybe you are starting a business and need an office, how about a spare room for guests or an art studio? The reasons are endless.
Is your loft space being wasted by storing junk and empty boxes? Put your loft to better use by converting it into a habitable room that will add value to your home.
Cost effective solutions to creating more space in your home
Convert your attic space or convert you loft space to an extra room - this is often a very cost effective method to increase your living space, particularly in London where property prices and space are at a premium. It's certainly less expensive and less hassle than moving home.
Converting your loft may not be as expensive as you think. Our prices start at only £35,000.
Let Royle Builders manage your loft conversion in London
Royle Builders can transform your roof space into a beautiful airy rooms with minimum disruption to your property. We do not even come into your living accommodation until we are ready to fit the staircase. Either create one large room with en suite bathroom, or choose to section the room to incorporate walk in wardrobes.
Loft conversions in London start from ONLY £35,000 for a terrace property!! Add value to your property.
Are you considering turning that wasted space in your loft into extra living space with a loft conversion? Give us a call to discuss your loft conversion project and see how you can add value and space to your property.